How to Start an Ergonomic Program at Your Company?
Having a company means several responsibilities, and one of the essential responsibilities in the company is to implement an ergonomic program, but how? If you are wondering the same and thinking about how to start an ergonomic program at your company? You have just landed in the right place. 
Implementing an ergonomic program can reduce risk factors that lead to employees' discomfort. Several primary risk factors can be easily reduced due to ergonomic improvement, which often results in employees being more productive, efficient, & having more job satisfaction.
Before knowing how to start an ergonomic program at your company, we should first understand more about an ergonomic program.
What is an Ergonomic Program?
An ergonomic program refers to a step-by-step process that assists in finding, analysing, and reducing another risk to worker safety at the workplace. It focuses on how carrying out tasks impacts the individual ability and how those tasks affect the employee's health.
It's often a collaborative effort between worker and employer. It contains worker safety training to avoid risk factors and apply improved procedures to prevent identified risks.
An ergonomic program may contain an assessment of duties & design of worksites that can cause a workplace injury. A program must include concise communication between worker and employer to identify risks. It could be a situation that can harm employees at the workplace.
Why Does Your Company Needs an Ergonomic Program?
You must have heard of musculoskeletal disorders MSDs are severe injuries affecting joints, muscles, ligaments, bones, and other tissue in the back or limbs. Millions of workers are affected by these injuries every year. A survey report showed that MSDs was the reason for 34% of all work-related illness and injuries, costing the owner of the company millions of dollars in the name of medical expenses, missed workdays, compensation costs, hiring replacement staff, and lessened productivity.
Several businesses are prone to the risk factor of musculoskeletal disorder in workers who perform tasks and jobs, including repetitive movements and overuse of muscle; these have a higher risk of MSD.
Sometimes, working in a specific position, physical trauma, constant vibration exposure, and bad posture might cause harm to the musculoskeletal system, which results in:
Stiffness & swelling.

Hernia.

Teras, pains, & sprains.

Syndrome of carpal tunnel.

Lower back pain.

Eye strain.

Neck strain.

Wrist and hand tendonitis.

Tennis elbow.

Shoulder tendonitis.
But, losing millions of dollars from worker injuries can be avoided by implementing an impactful ergonomic program to improve workers' health and productivity.
How to Develop an Effective Ergonomic Program?
The science behind ergonomic programs is simple and is designed in a way that helps the worker's job and workplace to fit the worker, rather than the different way around. Ergonomics is all about reducing and eliminating physical stress & environmental factors which affect an employee's comfort and health. 
However, an ergonomic program should be implemented in the initial phase of a business. Setting up an ergonomic program may cost you so much, but it will save you a massive amount of money in the long run. Without an ergonomic plan, the company pays for workers' insurance premium plans and many missed days at work.
Identify the Signs of Musculoskeletal Problems in the Workplace?
Managers or Employers should always give time to observe the environment of work and should find the clues signaling that a musculoskeletal issue is on the horizon. Specifically, an employer should look for tasks that require employees to:
After performing their job, workers should speak with the employer about their comfort and health.
What to Implement in an Ergonomics Program?
Implement Effective Controls for High-risk Tasks
Once the employer has identified the risk factor of MSD, he should take action immediately to avoid potential problems. For the worker who remains in the same position for a longer time, the employer can schedule a timely break for such person, invest in a good ergonomically designed chair, or make the worker learn some exercise for blood flow and muscle supply.
Train Workers on Avoiding Musculoskeletal Disorder
A worker should be given training and be aware of position, circumstances, and tasks that increase the chances of developing an MSD to avoid this hazardous condition. If offered a regular program, workers can learn to lift the weight without straining their backs. Desk workers or other workers required to stand must understand the appropriate posture to avoid MSD.
Advantages of an Ergonomics Program
We can utilize ergonomics to boost physical efficiency and reduces injury. However, it needed genuine participation from all workers and regular commitment.
Let's discuss the benefits of implementing an ergonomic program in your company, and if you are wondering how to start an ergonomic program at your company? We will go to this after going through the benefits of the ergonomic program in the company.
Health Improvement
It is legit that workers that work in an ergonomic workplace have improved health. It begins with the cardiovascular system and spreads to other areas. Your heart will be healthier if you work at an ergonomic workplace than it should be in a familiar environment. 

As you adjust the workstation to fit your height, workers will feel less stress in their bodies. The natural process will get your back from straining. Because your blood flow would be optimal, you would be reducing swelling on the legs. 
Improved Mental Sight
An ergonomic environment strengthens muscles, minimizes pain, and increases blood flow; combined, this means improved mental health. When you feel cozy, the task can be focused better at hand.

Employer and Employee would experience low anxiety, improved focus and moods, and increased awareness. It means more and improving concentration power with better-focused concentration comes higher productivity levels.
Higher Productivity Level
We all want our workers to have better productivity. Ergonomics make the workstation feel more natural and lead your worker to increase productivity. The better your workers will feel, the more they want to go. You can shift your standard environment to ergonomic, leading you to success.
Reduced Pain
No doubt, ergonomics make the workstation comfortable and feel more relaxed and natural. These changes help the body avoid strain and gain health, which means reduced pain. An employer can go with a desk for people who work by standing, and headphone is a good idea instead of holding the phone the whole day.
High-Quality Work
An ergonomic environment at a workstation eliminates some issues such as; aches, pain in the body or parts, fatigue, and other problems, which will result in workers producing high-quality work.
Minimize Hazard
The hazard comes in the way of your employee. These distractions are not good and can lead to worse consequences. The employer needs to give attention to the workers and office to remove that hazard from your employee's path. You could directly ask your employee, too. This will show you care and listen.
Increased Employment Engagement
If you have an ergonomic workstation, you also provide the best conditions for employee health and safety. You will see an increased employee engagement because they won't be facing health issues, and they will know that company cares for them.
How to Start an Ergonomic Program at Your Company?
We will now discuss the steps to implement an ergonomic program at your company. Now we have been enlightened about the ergonomic program, what is it? Why is it necessary, and what are the advantages of implementing it? We will need to follow seven steps to implement an ergonomic program at one company or organisation. Below, these steps are as follows:
Step 1: Identify the Risk Factors in Your Company
The first step is to understand the primary ergonomic risk factors, and reviewing work tasks in your assembly operation can make a huge difference. According to occupational safety authorities, physical stress reduction might reduce up to half of the severe injuries that occur each year. The first step in decreasing difficulties is predicting what can go wrong and altering tools and the work environment to make jobs safer for workers.
Step 2: Management of Risk Factors
The three primary techniques to control ergonomic risk factors are engineering controls, administrative controls, and personal equipment. Personal protective equipment, such as wrist supports, back belts, or vibration attenuation gloves should be considered by engineers. However, while personal protective equipment may lower the length, frequency, or intensity of risk exposure, the National Institute for Occupational Safety and Health considers its effectiveness in injury prevention equivocal.
Step 3: Select the Correct Equipment
Choosing the correct instrument for any activity is critical. The goal is to understand the work process and the safety requirements of the employees. Create a safer work environment by carefully selecting the tools and workstations that employees will use after assessing the likely risk elements in an activity. Work surfaces that are the wrong size or height; inconvenient chairs; out-of-reach shelves and bins; and awkward hand tools are all common issues.
Step 4: Maintain Management Commitment and Employee Engagement
Management's commitment is critical to the success of musculoskeletal health awareness training and WMSD therapies. Management is responsible for soliciting worker input on actual or suspected occupational risks, methods to control these hazards, and the best ways to apply interventions.
Worker and management representatives, safety staff, health care providers, ergonomics specialists, human resources, maintenance, engineering, and buying are all common contributors to ergonomics programs. These groups perform job analyses, identify hazards, evaluate injury records and symptoms surveys, create control methods, and install new ergonomics equipment.
Step 5: Management and Employees Must be Trained
All workers exposed to situations that contribute to musculoskeletal illnesses might benefit from ergonomics training (MSDs). Employees understand their occupations better than anyone else. Employees must be allowed to discuss issues when they arise. If management and workers are to recognise and handle workplace MSD concerns appropriately, they must understand ergonomics. Ergonomics training teaches managers, supervisors, and employees how to identify risk factors for work-related musculoskeletal disorders (WMSDs), detect symptoms of WMSDs, and devise solutions to decrease and avoid WMSDs.
Step 6: Gather Medical and Health Evidence
After you've discovered the indicators of a potential work-related musculoskeletal disorders (WMSD) problem and taught your employees, the next step is to collect health and medical evidence of WMSDs to assess the breadth and features of the problem. You can take corrective measures to delay the development of musculoskeletal disorders if employees disclose their symptoms early and openly (MSDs). If workers in one department report more MSD difficulties than workers in other departments, it is best to investigate probable MSD risk factors in that department right away.
Step 7: Encourage Worker Recovery by Allowing them to Return to Work
Work-related injuries and disability are linked to poor health and social effects, including decreased quality of life, job loss, lower lifetime earnings, damage among family caregivers, and early mortality. Workers who sustain significant injuries that require days off work are more likely to die than workers who merely need medical treatment.
According to studies, the longer a worker is out from work, the less likely they will return to work. While more severe conditions are associated with longer time away from work, lesser diagnoses can still result in disability if the healing and return-to-work processes are not adequately handled.
Conclusion

Employees, companies, and health care providers are all accountable for preventing occupational injury and illness. Implementing ergonomics is simple: applying ergonomic principles to the workstation minimizing the severity and number of MSD while reducing the worker's compensation claims and increasing productivity, efficiency, and quality.
Add a header to begin generating the table of contents
Add a header to begin generating the table of contents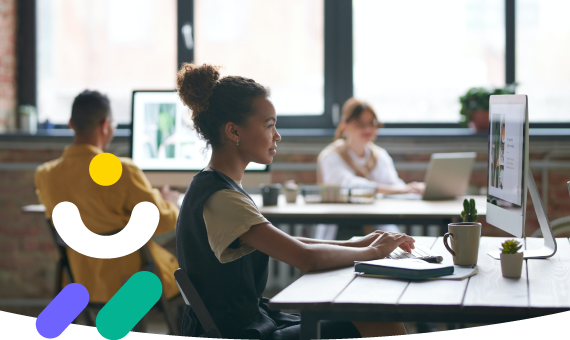 Office Ergonomics
Office Ergonomics is the management of your office environment for excellent health, comfort, and productivity. Everything is involved, from the way you sit, the location of equipment…
Read More »